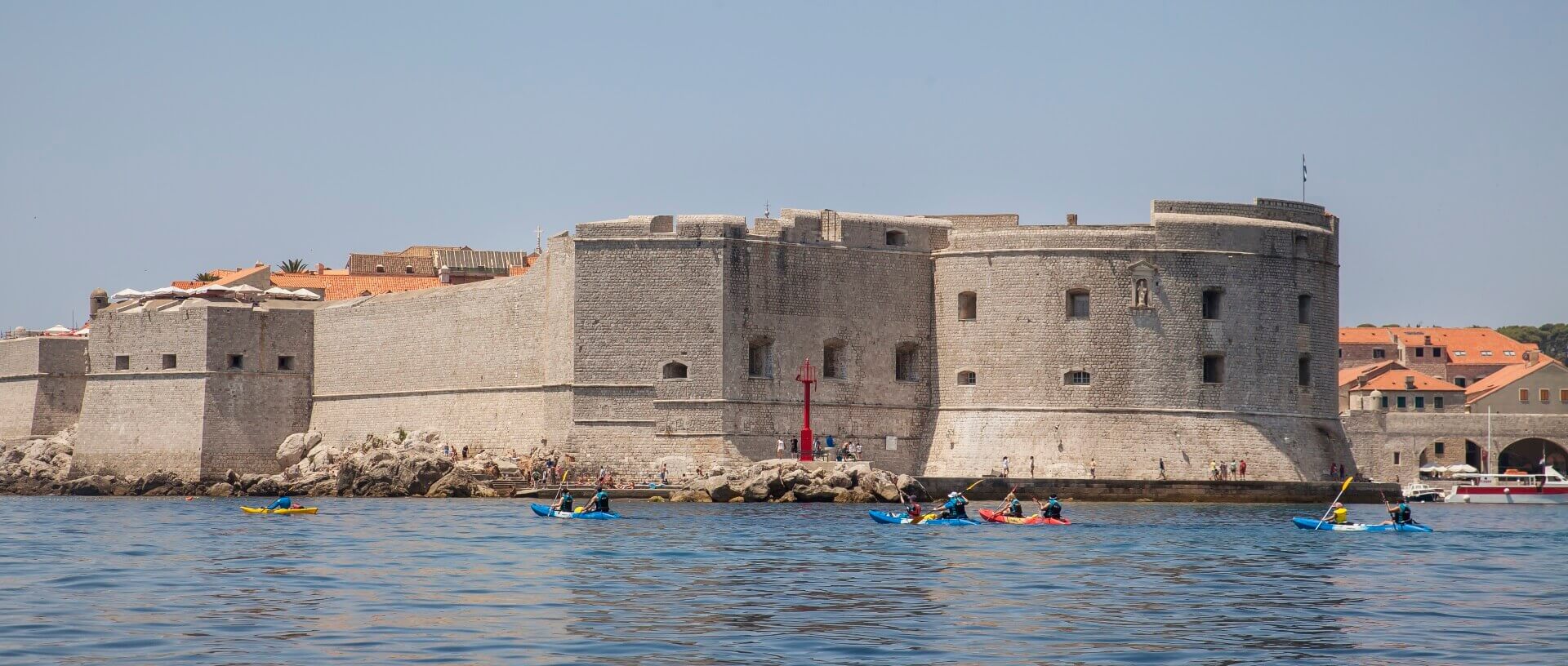 Half-day tour
Duration: 3.00h
Difficulty: Easy
Child friendly
Sign in: Monday – Sunday | 09:30 AM or 01:00 PM
for children (6-12)
120.00 HRK
114.00 HRK
(15.37 €)
---


Half-day tour
Duration: 3.00h
Difficulty: Easy
Child friendly
Sign in: Monday – Sunday | 09:30 AM or 01:00 PM
for children (6-12)
120.00 HRK
114.00 HRK
(15.37 €)
---
Limited time offer - save 5%
About The Tour
The sea kayaking in Dubrovnik is a great idea, and a half day kayak tour is one of the best options for kayak adventure in Dubrovnik. Our trip starts from Pile Bay. First, we will have a quick intro, your licensed tour guide will give you instruction and info about your Dubrovnik kayak adventure where you will be able to feel the beauty of Dubrovnik as the pearl of Adriatic.

Paddling around Lokrum, with the several stops for rest and the interesting education stories, will only be a prelude what comes after. Lokrum caves, nudist beach, the crystal blue Adriatic sea will allow you to enjoy your time, fill your batteries, and collect unforgettable memories.

After around five kilometres in the kayak, we make stop at the one of the most exciting location – Betina cave, approachable only from the seaside! Our stop will last about 40 min, and we will use some sandwiches, swimming, snorkelling – simple, fun in the sun. After stretching our legs, we are hoping in kayaks again and paddle Dubrovnik coastline.

Paddling underneath the city walls, listening to the exciting stories, taking the magic Dubrovnik pictures from a different perspective will surely be unforgettable.

We are finishing at the Pile bay where we are logging off from our Dubrovnik kayaking adventure.
Half-day tour
240.00 HRK
270.00 HRK
(approx. 35.89 €)
Tour Meeting Point
When you come to the Pile Square, the last bus station you are going tosee a big mirror monument. Behind it there is a street leading to the sea. When you come down, my desk is just beneath the restaurant Orhan.

Tour Information
Included in the price
All the equipment
Drybag for the personal items
Water
Sandwich
Snorkeling gear
English speaking guide
Insurance
---
Not included in price
---
What to bring
Swimming suit
Hat
Towel
Sunglasses
---
Age limits for participants
Children under the age of 18 need a signed approval from the parent
No maximum age limit
---
Number of participants
---
Cancellation
24h prior to departure time
Half-day tour
240.00 HRK
270.00 HRK
(approx. 35.89 €)
Need Help?
We provide Professional qualified guides. Quality kayaking and safety equipment. If you have any question's just send us an email or simply call us!


This website is part of Croatia Holidays Ltd. group and offers island tours around Dubrovnik.
TVRTKA
Croatia Holidays d.o.o. putnička agencija
Croatia Holidays d.o.o. za turizam i usluge, turistička agencija
MBS: 090031594
OIB: 36948406604
Nadležni sud: Trgovački sud u Dubrovniku
Share capital (Temeljni kapital): 20.000,00 Kuna (uplaćen u cijelosti)
SJEDIŠTE/ADRESA
TIBOR MLADINIĆ, OIB: 30373736574
Dubrovnik, ORAŠKA 11
– jedini član d.o.o.
PAY SECURELY ON OUR SITE:

OSNIVAČI/ČLANOVI DRUŠTVA
TIBOR MLADINIĆ, OIB: 30373736574
Dubrovnik, ORAŠKA 11
– jedini član d.o.o.
POWERED BY: