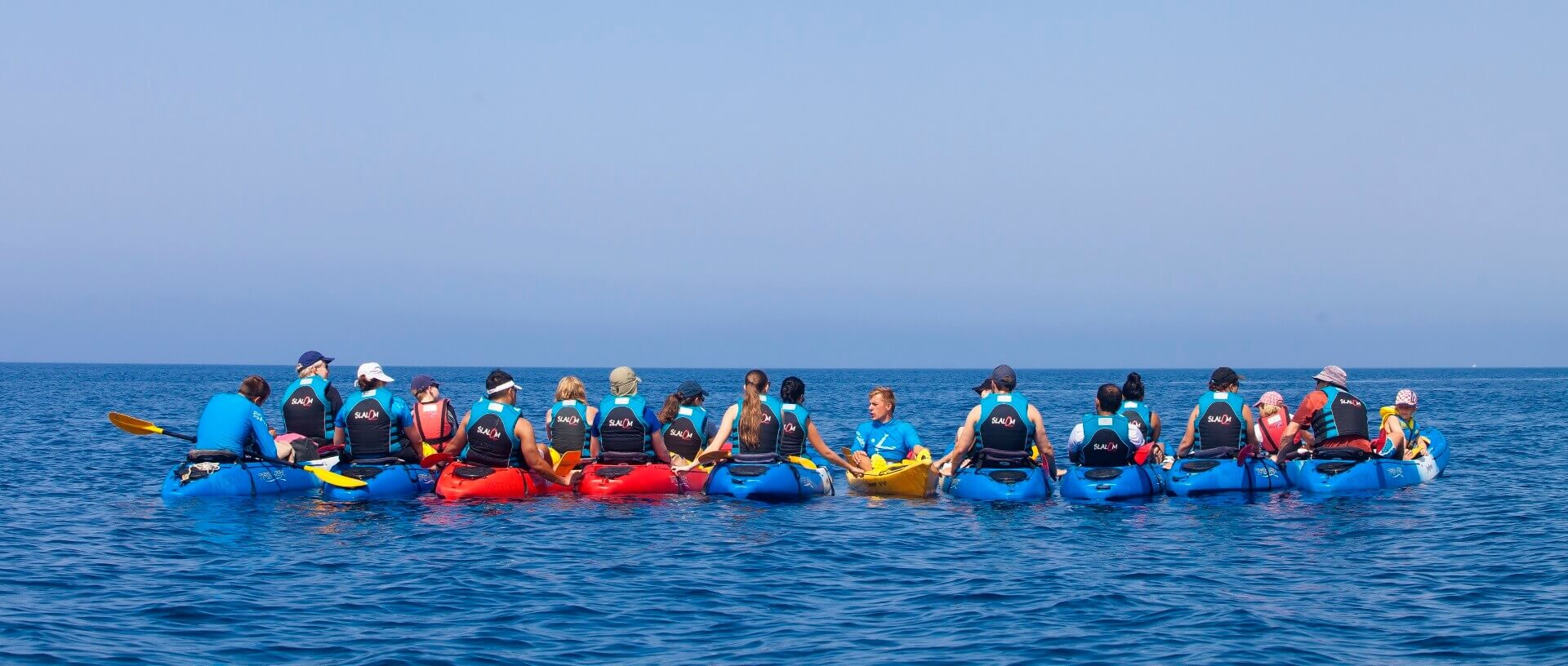 Classic Tour
Duration: 2.50h
Difficulty: Easy
Child friendly
Sign in: Monday – Sunday | 09:45 AM or 04:45 PM
for children (6-12)
190.00 HRK
180.50 HRK
(24.34 €)
---


Classic Tour
Duration: 2.50h
Difficulty: Easy
Child friendly
Sign in: Monday – Sunday | 09:45 AM or 04:45 PM
for children (6-12)
190.00 HRK
180.50 HRK
(24.34 €)
---
Limited time offer - save 5%
About The Tour
We present a unique kayaking experience which will show you Dubrovnik from a completely different perspective. During hot, crowded and loud summer season you can choose to enter a kayak 50 meters from the Dubrovnik Old Port, put your bathing suit on and start an unforgettable journey with your family and friends. Experienced tour guides, who grew up in Dubrovnik, will let you discover all the beauties of the Old Town and surrounding waters while telling an interesting story of Dubrovnik history, secrets and legends. Breathtaking seaside view of the Dubrovnik City walls, nature and animal life of the nearby island of Lokrum, many hidden caves and small beaches, historical and cultural heritage, together with warm and crystal clear sea make this trip irresistible for any world traveler.

All the kayaks are sit-on- top Triyak models, which are very easy to paddle and navigate, not requiring any fitness level or much effort to finish the trip. Other equipment include paddle, life vest, dry bags where you can put anything you might need on a trip, and of course fruit and water for short breaks. Insurance policy is included in case of any accident on the trip.

Small private groups accompanied by experienced local guide completely dedicated to you will make this a perfect trip for both experienced or novice kayakers.

Departure time schedule can be changed due to the weather conditions and period of the season.
Classic Tour
270.00 HRK
256.50 HRK
(approx. 34.59 €)
Tour Meeting Point
Ploče Gate wooden bridge

Tour Information
Included in the price
Water and fruits
Life vest
Waterproof bag
Insurance
---
Not included in price
---
What to bring
Swimming suit
Sun protection
---
Age limits for participants
Children under the age of 18 need a signed approval from the parent
No maximum age limit
---
Number of participants
Minimum participants: 4
Maximum participants: 15
---
Cancellation
24h prior the departure time
Classic Tour
270.00 HRK
256.50 HRK
(approx. 34.59 €)
Need Help?
We provide Professional qualified guides. Quality kayaking and safety equipment. If you have any question's just send us an email or simply call us!


This website is part of Croatia Holidays Ltd. group and offers island tours around Dubrovnik.
TVRTKA
Croatia Holidays d.o.o. putnička agencija
Croatia Holidays d.o.o. za turizam i usluge, turistička agencija
MBS: 090031594
OIB: 36948406604
Nadležni sud: Trgovački sud u Dubrovniku
Share capital (Temeljni kapital): 20.000,00 Kuna (uplaćen u cijelosti)
SJEDIŠTE/ADRESA
TIBOR MLADINIĆ, OIB: 30373736574
Dubrovnik, ORAŠKA 11
– jedini član d.o.o.
PAY SECURELY ON OUR SITE:

OSNIVAČI/ČLANOVI DRUŠTVA
TIBOR MLADINIĆ, OIB: 30373736574
Dubrovnik, ORAŠKA 11
– jedini član d.o.o.
POWERED BY: